The EtsyMom Valentine's Day Treasure Hunt starts today!!!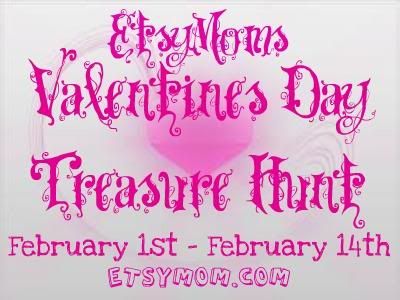 The rules are simple but the game is fun. Anyone can enter and there's lots of great prizes to be won. So let's get started!
The Rules:
Go through all of the participating shops listed below between February 1st and 14th

Find the listing with the valentine's day icon hidden.

Copy/Paste the listing URL into an email.

On February 15th, 3 names will be drawn as winners (Grand, second and third place).
The Requirements:

Anyone is eligible to enter and win - not just moms - not just etsy shoppers.

Entrants with 100% correct URLs will be entered to win one of the prize packages.

If no entrants have all correct URLs, Grand prize will go to the person with the most correct answers, second prize to the next person and third prize to the next person. In case of a tie, http://www.random.org will determine the winner.

Winners will have 3 days to reply to congratulatory email with their mailing address. If they do not respond, each winner will be bumped up 1 prize level until 3rd prize is available and a new winner will be chosen.So what are you waiting for?! Let's get hunting

You are looking for one of these 3 icons hidden in the below shops. (Don't forget to look in "sold" items!)
http://quirefly.etsy.com/
http://homemadebyamanda.etsy.com/
http://katekatenyc.etsy.com/
http://zoegirldesigns.etsy.com/
http://lavenderave.etsy.com/
http://aprikotdesigns.etsy.com/
http://newenglandquilter.etsy.com/
http://allyouneeddesigns.etsy.com/
http://lilprincessbow.etsy.com/
http://tamsytrends.etsy.com/
http://cmcdesigns.etsy.com/
http://mylovebugbaby.etsy.com/
http://babyswank.etsy.com/
A huge thank you goes out to all of the beautiful women in the EtsyMom Team for stepping up and donating the fantastic prizes available to be won in the treasure hunt. There is such a wide variety of goodies, I couldn't even begin to list them all. But I know you will love them - so don't delay in entering! If you have any questions, please send an email to etsymomteam@gmail.com.

XOXO,
~Heather